The Vancouver Courier
November 24, 2010
Porridge for Parkinson's Raises Bowls of Research Ten years of breakfasts nets $1 million
By Marg Meikle, Guest columnist, Special to Vancouver Courier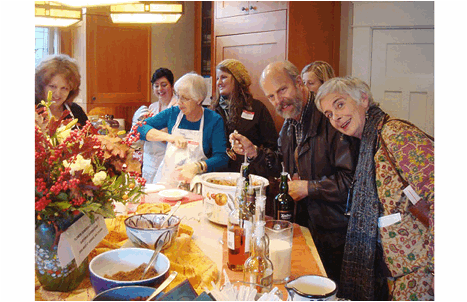 The annual Porridge for Parkinson's fundraiser, held Nov. 21 at the home of Marg Meikle and her husband, Noel MacDonald, has raised $1 million in 10 years.
Photograph courtesy of Anita Webster
How often do you get to give away $1 million on your front porch?
I did that this past Sunday morning.
In 1999, I was diagnosed with Parkinson's disease. I was 43 and my husband Noel and I had an 18-month old son, Mac. Rather than sit back to see what would happen, we decided to be proactive and help find a cure. We came up with a plan. Borrowing the idea from friends, in 2001 we launched a fundraiser we call Porridge for Parkinson's. We bought steel cut oats, made a lot of coffee and invited friends over to share a bowl of porridge and make a donation toward finding a cure. The idea caught on. In fact, we called it a bowl movement. Our friends loved the annual event, Noel's porridge recipe was exceptionally tasty (and people liked the scotch that was sometimes ladled on top.) There were sprinkles and chocolate chips for the younger visitors wary of this foreign substance. My mother made a fruit compote to enhance the experience. Mini muffins appeared. Friends donated items for a silent auction. Porridge for Parkinson's was in full swing.
Noel and I were determined that the money we raised would go directly to research. We selected the Pacific Parkinson's Research Centre (PPRC) at UBC as research is their focus. We found out from them what we suspected--that the science is ahead of the money. That encouraged us to keep cooking.
Over the past 10 years our event grew and so did the funds we raised. Our funds are raised through the Pacific Parkinson's Research Institute (PPRI) and a few years ago friends helped us secure matching monies. The R. Howard Webster Foundation, Jeff McCord, Deux Mille Foundation, London Drugs Foundation, The Andrew Mahon Foundation, The Meikle/MacDonald Family, John Norton and Dale and Joan Parker agreed to fund us. Their support turns every one dollar we receive at the breakfasts into three.
That's how this year the total money raised for research into Parkinson's disease over the past 10 years has now exceeded $1 million. That's a lot of porridge. PPRI and PPRC have used our money to create a professorship at UBC, known informally as the Porridge Professorship for Parkinson's Research. Last year they selected Dr. Silke Cresswell as a staff neurologist and specialist in movement disorders.
A few years ago our son Mac, who is apparently fond of alliterative names like we are, came up with Pennies for Parkinson's in which he encourages our guests to bring their penny collections or piles of change from their dressers. Last year Pennies for Parkinson's brought in $2,075, which was also matched.
And the bowl movement has gone international. Over the years we've encouraged others to host their own porridge breakfasts. We know of 21 other parties in North America that have raised over half a million dollars for Parkinson's research and societies. A porridge breakfast is cheap and it's easy. If you would like to make use of this idea we have instructions and recipes on our website at porridgeforparkinsons.com.
While you're on our site, please consider making a donation to our cause. Parkinson's disease is progressive and it's nasty. I'm all for doing whatever we can to find a cure.
Marg Meikle is the former Answer Lady on CBC Radio and author of children's books. Her most recent book is, How Much Does Your Head Weigh? © Copyright (c) Vancouver Courier